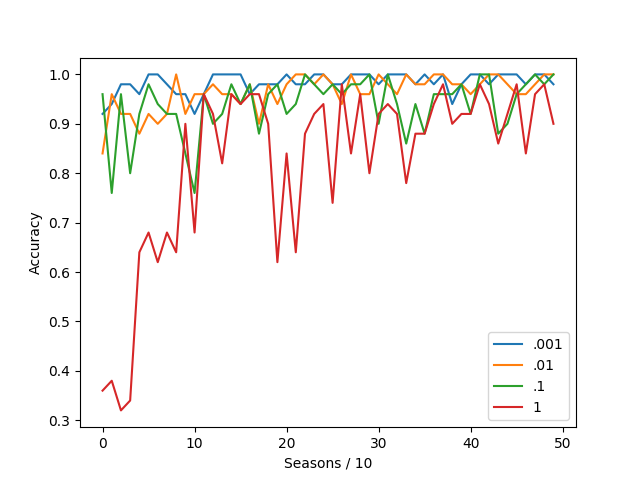 Stochastic Gradient Descent
Finding a support vector machine with stochastic gradient descent. Using different regularization constants to find the one that trains the support vector machine the fastest. The x-axis shows the number of epochs with each epoch containing 100 iterations of stochastic gradient descent plotted vs the accuracy of the SVM(stochastic vector machine).
About Me
I've always loved computers and programming ever since I was in middle school. As I began exploring the field, and taking classes
in high school and later college I realized Data Analysis was another passion of mine inspiring me to choose the major of
Computer Science and Statistics at UIUC. Creating tools to help solve problems can be very satisfying for me.
Programming is especially interesting if I figure out a clever solution to a problem I've been working on
for a while.
While programming is in large part seen as a lone wolf field I find working and collaborating with others makes projects much more enjoyable
and also increases the productivity of the group as a whole. I hope to establish meaningful and symbiotic
relationships with my coworkers so that we may work efficiently.